River Run Condominium Associations at Attitash Mountain Village Frequently Asked Questions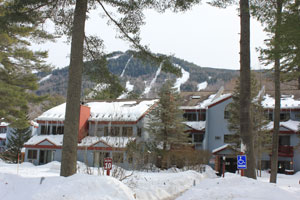 Located at the base of Attitash Ski Resort, and surrounded by 750,000 acres of White Mountain National Forest, Attitash Mountain Village is a four-season destination resort surrounded by towering mountain peaks rising from the banks of the Saco River blanketed by native pine and white birch trees – offering over 350 rooms, suites, townhouses and trailside accommodations.
Many units feature kitchens, gas fireplaces, spa tubs and mountain views. Experience on-resort dining, hiking, mountain biking, X-C skiing, ice-skating, kayaking and fishing with full access to indoor and outdoor pools, playgrounds, tennis courts, fitness facility with sauna, and indoor/outdoor hot-tubs.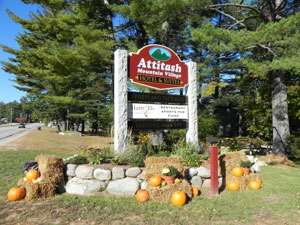 Are pets allowed for Owners or renters?
The River Run Condominium Assoc. (Buildings 1-5) and River Run Condominium Assoc. Phase II (Buildings 6-10) have a longstanding policy that there are no dogs or other pets allowed on the premises.This rule was voted in by each of the Condominium Associations in the early 1980's and is geared toward keeping the premises appealing to the general public and those Owners or guests who do not want pets in their hallways, grounds or units.
Do Owners or renters get any special discounts on lift tickets for the local ski areas?
While the ski areas do not have a specific discount policy for Owners of units at Attitash Mountain Village, the Attitash Mountain Village Front Desk in the Hospitality Building does currently offer discounted lift tickets to Condominium Owners and renters. For example, the discount ranges from $5-$14 off per ticket during the 2016 season.
Why does the Condominium fee seem high compared to other condos in the area?
While the Condominium fees may seem higher, the River Run Condominiums' monthly dues are actually lower than most condominiums in the region if you take out those line items that are not found in any other condominium complexes such as:
Central Phone System that operates similar to a hotel and provides a convenient central communications system for Owners, guests and renters.
Sports Club Amenities and Membership. These 28 amenities have an annual cost of approximately $717 per unit. This fee is paid for through the monthly condo dues.
Cable TV.
Buildings 6-10 have their central heat and air conditioning paid for in the condominium dues. Buildings 1-5 have heated common hallways paid for by the Association.
A significant investment has been made to be sure Wi-Fi is available for all units, and is paid for by Association dues. There are also three cell towers onsite to enhance the network capabilities.
The extensive grounds and common areas have many unique features such as a pedestrian tunnel for access to the four-season Attitash Resort recreational area (the busiest four-season tourist attraction in the state) and extensive landscaping with eight gazebos with four-season cooking grills.
River Run Condominiums are run as a Resort Hotel with a 24-hour, 7-day a week Front Desk for Owners and their guests' convenience. The Front Desk also serves as an added presence for security.
Frequent housekeeping in all the common areas for the transient nature of this complex.
These additional services help create the generous rental income a condominium owner may expect.
What amenities are included?
The Attitash Sports Club brochures list each of the 28 amenities available to Owners and guests.
To highlight some of these features:
The indoor pool complex includes both indoor and outdoor spa tubs, sauna, game room and changing facilities.
The outdoor pool facility features a Pavilion with ample lounge chairs, a year-round Cabana, and includes adjacent clay and hard surface tennis courts, Jacuzzi, kiddie pool, lawn games such as shuffle board, badminton, volleyball and multiple playgrounds.
The extensive grounds include 64 kilometers of groomed cross-country ski trails and hiking/walking paths with exercise and nature interpretive trails along the pristine Saco River.
The area is excellent for road-biking and mountain biking.
Ponds for fishing, swimming and sandy beach.
The exercise facility in Building 7 includes a spa tub, steam room, showers, game room and TV lounge area.
On-site restaurant and sports bar.
Is there a transfer fee at closing?
The Condominium Association does not have a transfer fee. New Owners should contact Suzanne Connifey at
SuzanneConnifey@AttitashMtVillage.com
to be added to the Association Ownership List as well as the mailing list for newsletters.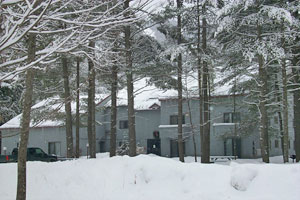 Is there a fee for new Owners to continue on the rental program? And/or any mandatory upgrade fees with new ownership?
There is no fee for joining the Rental Program at Attitash Mountain Village. Having the unit upgraded sufficiently by the current owner or new buyer to meet the ever higher demands of the travelling public is a requirement so as to maintain the standards of the Rental Program.
There are no mandatory upgrade fees.
Do I have to use the onsite Rental Program to rent my unit?
These condominium buildings were designed and built to function as a hotel condominium on behalf of the greater Attitash area. Attitash ski area sold the property on the premise that it would be actively run as a destination resort with an aggressive marketing program, 24-hour-7- day per week Front Desk, central reservations, housekeeping, onsite central laundry and maintenance, and extensive amenities.
The developer has retained a right of first refusal and does require a new owner to join the Rental Program so that there are no empty units during our busy season. Owners and their guests are required to check in at the Front Desk so that all parties are aware of the rules and regulations for this destination resort and have access to resort information and keys for the units and amenities.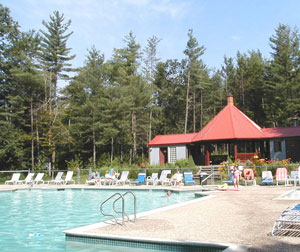 Can I live here year-round?
This Resort is designed to function as a hotel condominium and has proven not to be conducive to year-round occupancy. The units were built with adequate closets for transient use and the Condominium Association grounds, patios, and services are designed for transient use.
Why do I have to update my unit to be in the Rental Program?
The management of Attitash Mountain Village is very active with the American Hotel Association and American Resort Developers Association, and is following the direction of the leading resorts in the country whereby the most affordable way for a condominium owner to have a unit is for it to be maintained at the highest standards so as to maximize rental income, owner satisfaction and unit value.
The Resort's marketing activity is strong and communicates a certain image to prospective guests. It is crucial that the guests' experience meets or exceeds their expectations in order to develop loyalty and repeat business for the Resort and Condominium Owners.
When a condominium is inadequately maintained, and is substandard, it does not compete for strong rental income and fails to provide both Owner and guest satisfaction while staying at their unit. The units that are allowed to become rundown are hard to rent, detract from growth of repeat guests, and are more difficult to sell when the times comes.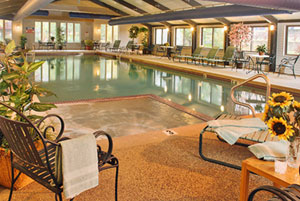 Can I rent my unit out to someone year-round?
Units were not designed for year-round occupancy both in terms of living and storage space. The few times we have seen year-round occupants, it has resulted in extreme wear and tear in the unit, and incompatibility with basic policies of uncluttered patios and decks, etc.
The shorter term rentals which include regular housekeeping and maintenance inspections maximize the net rental income for the Condominium Owner and minimize wear and tear on the units.
These units were designed for second home owners to enjoy Attitash Mountain Village and maximize their rental income without compromising either.
Owning at this resort means that you will always have a home, practically trailside, whenever you wish to visit. And you can put your condo in the rental pool and enjoy income when you aren't using it.
Attitash Mountain Village buildings have been left in a very natural setting with very little artificial disturbances. Quality and timelessness is key here.
River Run condos vary in size to accommodate 1-16 people. They range in style: studios, one bedroom suites, and townhouses with up to three bedrooms. Some of the units have been designed with a lockout system, allowing the individual unit to have a separate living area and sleeping area. This means the unit has two keys and the lockout is able to be rented separately.
All buildings are constructed of concrete cinderblock with firewalls between each unit, an 8" concrete slab between floors and ceilings, and finished with two by four and/or two by six wood frame construction.
Please let us know if you would like any further information.