Condominium – 50 Mountainside at Attitash Road, Bartlett NH
If Bearfoot Creek built condos, the interior would look like this. One of a kind truly stunning 3BR/3Ba trailside condo, located at Vail-owned Attitash Bear Peak. Unbeatable location ABOVE the crossover trail to Bear Peak, giving you access to both mountains on your first run.


People often ask me about Alec and Ace Tarberry, my two sons. They're well known locally for their skiing prowess, after growing up on Attitash Bear Peak. It all started when we moved into the "model home" at 44 Cathedral Trail in 1987, two years after Alec was born. We had a banner on the deck that said

"If You Lived Here, You'd Be Home Now," so it wasn't unusual for skiers to leave their skis in the snow and walk in to inquire about Attitash Mountain real estate (very helpful to my real estate career!) .


Well the kids stuck with the Attitash Race Program, and then moved up to the Mt Washington Valley Ski Team, while they also skied for their high school team at Kennett High. They became competitive ski racers, consistently in the top ten in the country for their ages. Alec skied for the Middlebury Varsity Ski Team and made the NCAA All Star Team (front 2nd from left). Ace skied for the Dartmouth Varsity Team, was 4th in the Nationals for Downhill in Alaska while there, and made the US Ski Team for 2 years, traveling all over the world.

There's nothing like living trailside when your kids ski. For me, a big part of a ski-in, ski-out location meant that my kids would bring their friends over after skiing. Or they'd all bring their lunch and ski to our house instead of the baselodge. I always knew where they were! And there was no shuttling involved. And in case you don't know me, I am strictly a recreational fair-weather skier. So this was important. Snow, sleet, rain, sun, fog, below-zero temps, they skied it all. And I didn't have to drive them.

We made wonderful friends and see many of them on the ski slopes every season. It's like one big spread-out family!

So my advice to you … having a ski home or trailside condo will keep your family closer.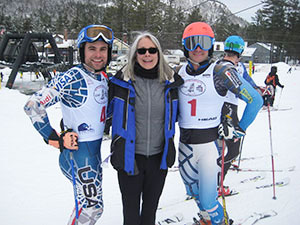 It's funny how teenagers resist traveling with their parents at a certain age, but skiers just keep coming! And your grandchildren will too.
For an insider's view of living at Attitash Bear Peak or for information on Bearfoot Creek NH Ski Homes, call me at (603) 569-4663 ext 5230 or email Joy@JTRealty.com.