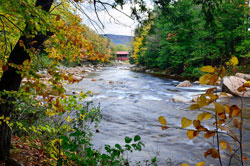 Jackson, New Hampshire
is known for some of the best mountain vistas in the White Mountains due to it's close proximity to Mount Washington and the Presidential Range. With a quaint rural village, covered bridge, ski areas and golf courses, it's a mecca for vacation homeowners and an excellent community to live in. Homes command a premium here, particularly if they have mountain views.
The Ellis River and Wildcat River are pristine mountain waterways with some of the best trout fishing in the state. Condominium Resorts revolve around skiing at Black Mountain and Wildcat, or Golf at the Wentworth Resort and the Eagle Mountain Inn. Ellis River Village on Route 16 is just past Jackson Village in a quiet location along the river.
Contact us
for assistance buying Jackson real estate. We are happy to help you find homes, condos, rentals, and more.